May 20 (Sunday) – Season Opening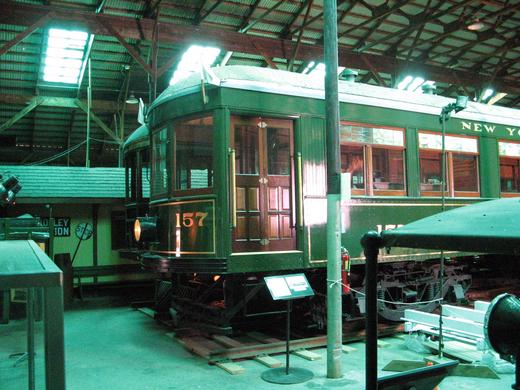 Spring is here and the museum is open! Visit the museum's collection of vintage trolley cars, a steam locomotive, highway and horse-drawn vehicles and special exhibits.
June 17 (Sunday) – FATHERS DAY SPECIAL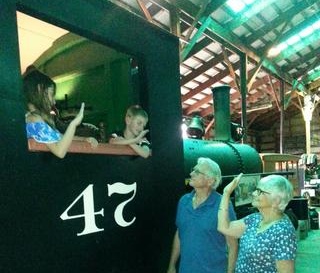 Dads and Grandfathers receive free admission today when accompanied by a youth(s) age 3 - 12. Visit the museum's collection of vintage trolley cars, a steam locomotive, highway and horse-drawn vehicles and special exhibits.
July 22 (Sunday) – S.T.E.M. EVENT FOR AGES 3 - 12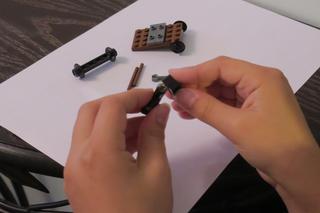 A STEM event (Science, Technology, Engineering and Math) for young inquiring minds will provide hands-on activities that demonstrate the simple machines and technology at work in various modes of transportation. There will be make-and-takes, a scavenger hunt, a raffle, and trolley rides, as the youngsters pass from one "station" to the next, developing skills in a variety of subjects. Special prices prevail. By preregistration only (www.nymtmuseum.org/stem)
August 3, 4 and 5 (Friday, Saturday and Sunday) – MONROE COUNTY FAIR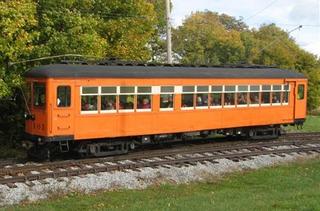 The museum is right next to the Monroe County Fairgrounds in Rush, so come enjoy the Fair and add a trolley ride to the fun!

Trolley departs every 30 minutes.
Friday ....... Noon to 7:30 PM
Saturday ... 11:30 AM to 7:30 PM
Sunday ...... 11:30 AM to 4:30 PM

August 12 (Sunday) – RAILROAD DAY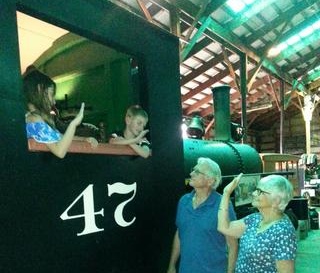 Thrill to the romance of the rails with velocipede rides, "Gandy Dancer" track work demonstrations, model railroads, hobos, and much more. Trolley rides on the museum's railroad bring back the clickety-clack on the rails as the 90-year-old trolley travels the scenic run.
September 9 (Sunday) – STRONG SUNDAY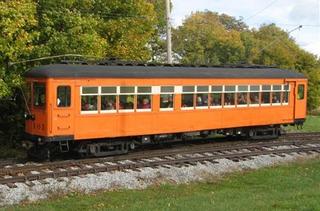 Take an entertaining trip through the history of transportation and transportation toys with Chris Bensch (at 1 pm), Vice President for Collections and Chief Curator of the Strong Museum as he presents Planes, Trains, and Automobiles: Transportation Toys at The Strong Museum. The talk is free with regular museum admission, which also includes trolley rides through beautiful rural countryside.
September 16 (Sunday) – ANTIQUE FIRE TRUCKS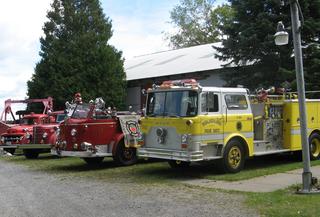 Pumpers, hook-and-ladders, fire engines--they'll all be there to kick off the museum's annual Fall Foliage ride season. These beautifully restored fire trucks are proudly displayed by the Genesee Valley Antique Fire Apparatus Association. Find out why firemen wear red suspenders! Trolley rides throughout the day.
September 16 - October 28 (Sundays only) – FALL FOLIAGE BY TROLLEY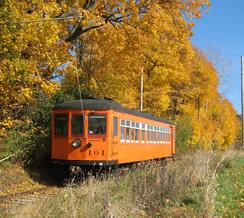 Enjoy the beauty of autumn in western New York State from the window of an authentic 90-year-old electric trolley car. Trolleys operate throughout the day starting at 11:30 a.m., and no reservations are required.
October 20 (Saturday) – HALLOWEEN TROLLEY EXPRESS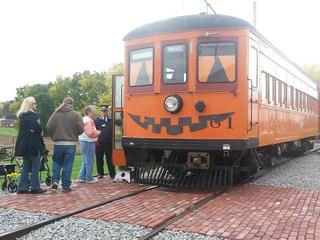 All aboard this Halloween special! Children and their parents are encouraged to wear their Halloween costumes and join us for a special day at the transportation museum. The trolley takes you to the Pumpkin Patch where you'll decorate a free baby pumpkin and enjoy delicious cider and donuts. In the museum there's unique trick-or-treating in Halloween-decorated trolley cars! Special hours and prices prevail; reservations are required.
December 2, 9, 16 (Sundays) – HOLLY TROLLEY RIDES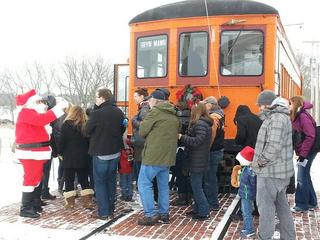 Santa may still use reindeer power, but sometimes he joins you to enjoy a ride on our authentic 90-year-old electric trolley car, recalling another time when families rode trolleys to do their holiday shopping in the city. The museum will be decorated for the holiday, and the museum's large model railroad will be running three trains at once. Visit with Santa and Mrs. Claus, and there's free hot chocolate and cookies for all!
Santa times:
Sun 12/2 12-4
Sun 12/9 12-4
Sun 12/16 11-4
Adults $10, Seniors 65+ $9, Youths age 3 - 12 $8. No reservations required.