Located at 6393 East River Road, in the Rochester suburb of Rush, the New York Museum of Transportation is open Sundays only, from 11 a.m. to 4 p.m.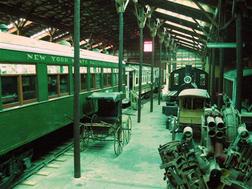 The museum's exhibit spaces feature a collection of antique trolley cars, a steam locomotive, fire truck, ambulance, operating model railroad, many other vehicles, and numerous exhibits of photographs and artifacts pertaining to local transportation history. Relive holiday memories with an exhibit of the Midtown Plaza Monorail.
On certain Sundays your visit includes a scenic 2 - mile round trip ride that brings back the interurban era of a century ago. Check the
2021 event calendar
for trolley ride dates, times, and
reservations
. a full
calender
of special events offers unique ways to celebrate rail history and favorite holidays.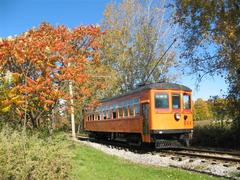 FAMILY FRIENDLY ADMISSION PRICES
On days without trolley rides: $5 adults, $4 youths age 3-12.
On non-event days with trolley rides: $10 adults, $9 Seniors 65+, $6 youths age 3-12.
Special prices prevail for events.
HOW TO FIND US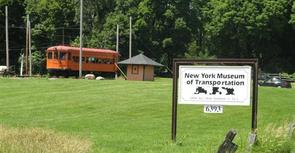 Entrance to the museum complex is located at
6393 East River Road,
and can be reached from I-390 exit 11, taking Route 251 West (Rush-Scottsville Rd) for 1-1/2 miles to East River Road, turning right and going 1 mile. When using GPS or on-line map programs, use the following address: 6393 East River Road, West Henrietta, NY.