Located at 6393 East River Road, in the Rochester suburb of Rush, the New York Museum of Transportation is open Sundays only, from 11 a.m. to 5 p.m.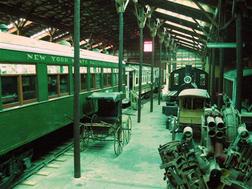 The museum's exhibit spaces feature a collection of antique trolley cars, a steam locomotive, fire truck, ambulance, operating model railroad, many other vehicles, and numerous exhibits of photographs and artifacts pertaining to local transportation history. Take the Virtual Tour to learn more.
Mid-May through October, trolley rides operate from 11:30 a.m. to 4:00 p.m. Plan to arrive by 3:00 to have time to see and do everything. Your half-hour excursion on the only trolley ride in New York State is aboard one of the museum's 87-year-old trolley cars. You'll hear the clickety-clack on the rail joints and toots from the air whistle at grade crossings, as you travel to Midway Station. There, the Conductor will reverse the poles on the car for the return trip through the beautiful Genesee Valley countryside.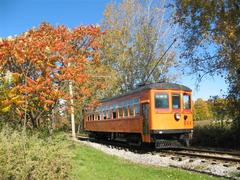 ADMISSION PRICES
Admission, from mid May through October---the electric trolley ride---is $8 for adults, $7 for seniors 65 and over, and $6 for youths under 12.
GROUP VISITS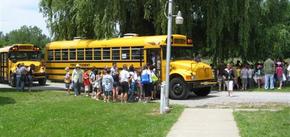 Group visits at other times during the week are available by appointment (Contact Us. or call us at (585) 533-1113). Visits last about an hour, including a guided tour of the museum and an electric trolley car ride on the 1-mile railroad. Visits can be customized to your group's interests, comprehension levels and time constraints. Admission for group visits: $7 adults; $6 seniors 65 and over; $5 youths under 12 (a $100 minimum charge applies).
HOW TO FIND US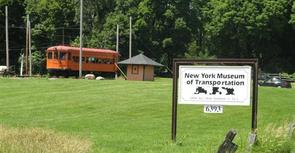 Entrance to the museum complex is located at
6393 East River Road,
and can be reached from I-390 exit 11, taking Route 251 West (Rush-Scottsville Rd) for 1 1/2 miles to East River Road, turning right and going 1 mile. When using GPS or on-line map programs, use the following address:  6393 East River Road, West Henrietta, NY.