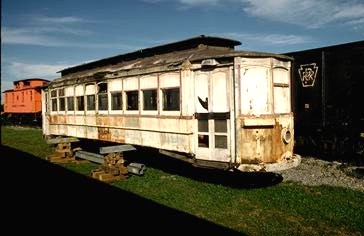 The carbody of Rochester Streetcar #437 rests on cribbing at the NYMT awaiting future restoration.
On August 4, 1997, Rochester streetcar #437 was trucked to its new home at the New York Museum of Transportation by Silk Road Transportation of Arkport, NY. The #437 was built in 1904 by Kuhlman and spent the next 32 years running in Rochester, NY. In August 1936, the car was retired and sold to Barnard's Camp on Lake Lamoka which is 20 miles southeast of Penn Yan, NY. Along with another Rochester car #394, the #437 spent over 60 years as a cottage at the camp until it was deemed as surplus and saved by the NYMT.
Under the leadership of project leader, Charlie Lowe, the #437 has been tarped for protection against the harsh Rochester winter. The car will remain where it is while it is studied, dimensions and paint details recorded, and a detailed restoration plan developed.
The #437 is an exciting addition to the NYMT's collection and is in it proper home in the Rochester, NY area where it was built to serve and did so for 32 years!
---
To go to the page describing the latest work on the Rebuilding of Car 437 Click Here
---






Several different views of Rochester streetcar #437 prior to tarping to protect it against the Rochester winter.
Photos copyrighted by Christopher Hauf